The Future of
Aviron Looks Bright
We at Aviron are excited to announce our $18.5M Series A, led by Chris Carey and his team at Stripes, with additional investment from Global Founders Capital, Formic Ventures, and 24-Hour Fitness founder Mark Mastrov.
Aviron is a gaming-led, smart rowing machine for people like us who have busy lives and limited time, yet recognize the physical, mental, and emotional importance that comes with fitness. Aviron combines high intensity interval training (HIIT) workouts that tend to be short, challenging, and include the dual benefits of burning calories while building muscle with game-based content and psychology, making workouts fun and addictive.
Our Series A will go toward growing our team. We plan to double in size over the next year with an emphasis on hiring engineers and software developers to increase product development and expand our library of entertainment offerings. We'll expand our online presence in the US market, enter the retail market, and increase our inventory investment to guard against supply chain issues. Most importantly, we have a ton of new content and feature releases in the works including the addition of popular streaming entertainment platforms like Netflix coming this quarter.
In addition to the funding, I am pleased to announce that Amy Curry-Staschke has joined our team as Chief Operating Officer. Her resume speaks for itself, from her tenure at Nike, Lululemon Athletica, and Burton Snowboards, we are excited that she decided to bring her expertise and leadership to Aviron.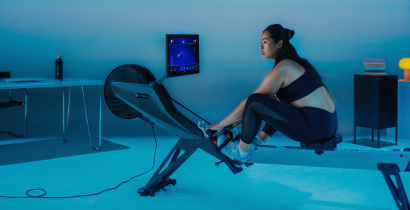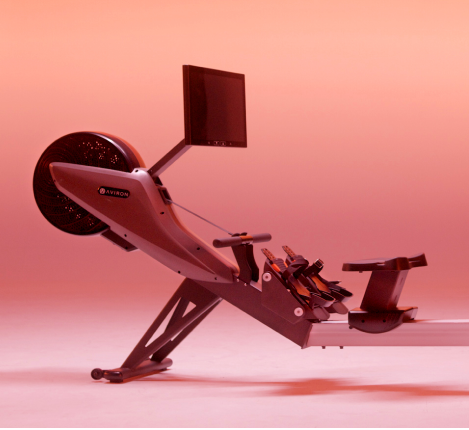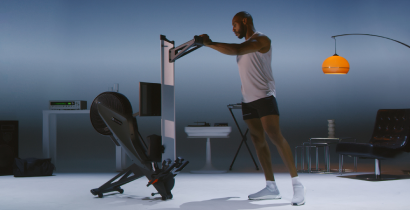 AVIRON's BEGINNING AND FUTURE
Fitness should be fun, shouldn't it? That was the question that sparked the creation of Aviron and still drives us today.
For years, the fitness industry has focused on burning calories, building strength, and toning muscles, in other words, the end result and not the workout experience itself. Fitness machines had potential, but they lacked a level of enjoyment. Some companies added classes and coaching to their devices, and while that made it better for some, it didn't work for me. Other systems tried to add in "gamified" experiences, but they always felt like afterthoughts rather than integrated into the original design of the product.
It was with those things in mind that I started to conceptualize a machine that would work the entire body, in a short amount of time, and put an end to boring workouts. In 2018, we launched Aviron, the game-first, connected smart rower. From the ground up, we purposely created the rower to work as one with our ever-growing library of content (video games, streaming entertainment, live races, virtual destinations, etc.).
The Aviron rower is a self-serve experience that offers an efficient, full-body workout that combines cardio with strength training. Our games feature zombies, robots, and DeLoreans, in a software ecosystem that uses game psychology - such as achievements, leaderboards and a sweat-equity currency - to push users to achieve personal goals, equating to better mental and physical health. Our unique integration of video game elements and the comradery of competition makes the workout experience far more enjoyable. Let's face it, you'll work out longer and harder when it's fun.
Despite the benefits of rowing, it hasn't become mainstream like spin or running because it's so mentally challenging and boring. Andy has changed this dynamic with the Aviron rower – he's created an amazing product that is well designed and offers engaging formats where you forget you're exercising. We're excited to partner with Andy to help accelerate Aviron's investments in team and product, and to help more people advance their fitness goals.
Chris Carry
>
Partner, Stripes
Thankfully, we were not alone in our thinking, our strong and supportive community of like-minded enthusiasts agree, and without them, we would not have come this far. They have told us that our unmatched combination of fitness and diversified content has changed their lives. Our internal data showed that nearly 100% of households that have Aviron, at least 2 people use it regularly. It has provided a necessary mental and physical release, has helped create healthier habits, and has given them a welcoming space that encourages and champions each other.
We bootstrapped for the first couple of years and then in August of 2021, we raised a $4.5M seed round which was used to increase our R&D development and software teams, and improve logistics and distribution. Our team has grown to 36, and our paying subscriber base has grown 2700% YoY. What's more, in 2021 we experienced a 700% increase in revenue. We continue to release new updates, features, integrations, and content twice per quarter.
Our team believes the at-home connected fitness industry will continue to experience strong growth. In fact, a recently published 2022 consumer trends survey* shows that 95% of respondents prefer at least a hybrid home and gym workout experience (41% will be 100% at-home).
If what you have read excites you, please consider joining our team by visiting our jobs page. We would love to meet you.
We also invite you to join our Facebook community, where you can hear the latest and greatest from Aviron, customer success stories, and more.
See you on the leaderboard.

*Consumer Trends 2022 by The New Consumer & Coefficient Capital